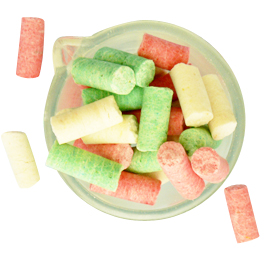 Other Inclusions
Specialty Feeds can incorporate a variety of inclusions into most diet formulations.
For short runs the diet temperature can be kept below 20 C.  Many heat labile compounds can be succesfully incorporated.
Compounds with known toxic properties can often be handled safely and mixed homogeneously through pelleted diets.
Compounds succesfully incorporated into pelleted diets in the past include Quercitin, Genistein, Eplerenone, Sulindac, Tributyrin, Probucol, Tamoxifen, Bisphenol, PDA, Tunicamycin and a variety of natural plant extracts.