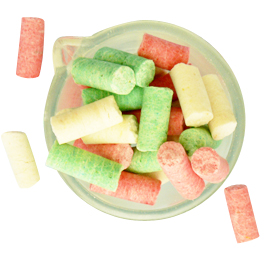 Custom Diets
Most of the experimental diets we have manufactured are for:
We have considerable experience in designing and manufacturing custom diets, and will be happy to help with your requirements. We may already have made a diet which would be suitable for your research, see the links below for our existing range of diets. If there is nothing there which is appropriate, then please contact us to have a diet made to suit your project.
One of the first things to consider is whether a cereal based or semi-pure diet is most appropriate. Cereal based diets are made largely from grains such as wheat, barley and lupins, with an added fat source and vitamin and mineral premixes. Because the nutrient content of grain will vary depending on where it is grown, and also from year to year, there can be variations in these diets, and they are more usually used in production facilities. Because there is a base level of vitamins and minerals in the grain it is also virtually impossible to make vitamin or mineral deficient diets using cereal grains.
Semi-pure diets are made from more refined ingredients, such as sucrose, starch, casein, and refined oils. The vitamins and minerals are still added as premixes, but because levels of these nutrients in the other raw materials are lower, they can be more closely controlled. Most of the ingredients used are human food grade, and can be replicated from year to year, and in different parts of the world. The disadvantage of semi-pure diets is cost, as the raw materials are more expensive. This has less impact on small batch sizes, as the manufacturing cost is the same, but will have more effect for larger quantities. The advantage is that the diet will be more defined.
For a more detailed discussion of this subject, click here.
We have several production facilities at Specialty Feeds for making different batch sizes or types of diets.
However we have also custom made experimental diets for sheep, cattle, ostrich, and poultry.
Please contact us if you require any experimental diet for pure or applied research.